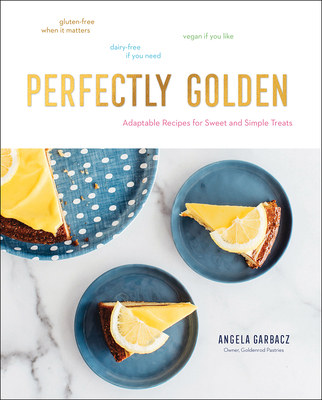 Perfectly Golden: Adaptable Recipes for Sweet and Simple Treats
Publication Date:
April 28th, 2020
Publisher:
Countryman Press
Usually Ships in 1 to 5 Days
Description
A cookbook of treats from the Great Plains to satisfy every sweet tooth.
Based in Lincoln, Nebraska, Goldenrod Pastries is a community bakery with an ambitious and talented baker at the helm. Angela Garbacz learned at her mother's and grandmothers' elbows, mixing up cookies and rolling sweet buns. Her training continued in New York City before she returned home and opened her dream shop.
From her grandma's famous peach coffee cake to caramel-covered pecan rolls, lemon meringue pie and frosted brownies to fluffernutter buns and confetti cookies, Garbacz's pastries come out of the oven perfectly golden and regularly sell out. At her bakery, she creates delicious treats without dairy or gluten, but every recipe in this book can be made with butter and all-purpose flour just as easily as any alternative. With her positive attitude and confident voice, Garbacz makes it easy and fun to bake a perfect dessert that everyone can eat. This beautiful cookbook—the photography, the philosophy, and the desserts!—is an instant classic.
Praise for Perfectly Golden: Adaptable Recipes for Sweet and Simple Treats
Angela Garbacz is the future of pastry. She possesses a rare mix of talent, diligence, and compassion, which she ignites with the spark of humor and wit. The beauty of Angela is that she prioritizes the art of baking and flavor while solving for the needs of otherwise ignored eaters.
— Dave Arnold, author of Liquid Intelligence
I've wanted Angela to have a cookbook from the first day I met her! She's a generous baker who wants everyone to enjoy her treats, regardless of any allergies or aversions, and that comes through loud and clear in every recipe.
— Kerry Diamond, Editor in Chief, Cherry Bombe Magazine
Angela's recipes have the magic that every modern home baker is after: comforting, crave-worthy, and infinitely adaptable. In Perfectly Golden, her joyful collection of all-American treats are brimming with Midwestern charm.
— Shauna Sever, author of Midwest Made
It's the perfect baking book for those who want delicious treats, every time, no matter what they have stocked in the pantry.
— Kelsey Youngman, Food & Wine
Health-minded home bakers will delight in this friendly, accessible volume.
— Publisher's Weekly
I'm intrigued by Peach-Buckwheat Upside-Down Cake, using olive oil for the fat. And I suspect the vanilla custard filling for Graham Cracker Cream Pie made with coconut milk tastes even better than the traditional dairy version. I'm game to find out.
— Susan Puckett, Atlanta Journal Constitution
This book is all about inclusive baking, and Garbacz's uncomplicated approach ensures that Perfectly Golden will become an invaluable resource for home bakers as well as dessert professionals.
— Pastry Arts Magazine
...A wonderful asset to all of us baking at home.
— Jill Lightner, Seattle Times
For those who haven't been able to make it out to the Nebraska storefront, the popular bakery has finally repackaged the many beloved recipes into a cookbook so that you, too, can bake these otherworldly desserts in the comfort of your home.
— Amy Schulman, Chowhound
Lessons from her mother and grandmother, as well as learnings from her community bakery, all found in this book, represent an inclusive philosophy that all bakers will benefit from.
— Cool Hunting