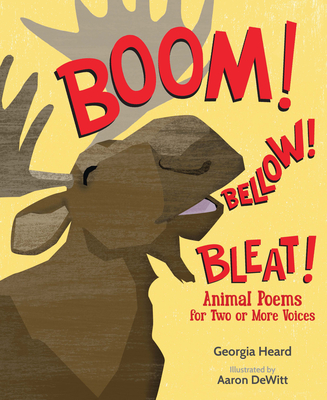 Boom! Bellow! Bleat!: Animal Poems for Two or More Voices
Publication Date:
July 11th, 2023
Usually Ships in 1 to 5 Days
Description
This playful collection of poems--peppered with an astounding variety of animal sounds--is meant to be read aloud together.
These poems for two or more voices explore the myriad sounds animals make--from a frog's jug-o-rum to a fish's boom! to an elephant's bark. Laced with humor, the poems are a delight to read aloud and cover all major classes of animals: mammals, birds, fish, reptiles, amphibians, insects, even a crustacean! Readers will learn how to estimate the temperature by counting a cricket's chirps and see how creatures make sounds at specific pitches and frequencies, so that they can be heard despite other noise around them. Extensive end notes provide more information on the animals and how and why they make the sounds they do. Written by noted children's poet Georgia Heard, this is an ideal collection for parents and children to share, or for a fun, interactive classroom read-aloud.
Praise for Boom! Bellow! Bleat!: Animal Poems for Two or More Voices
A NCTE Notable Poetry Book

"One thing that sets picture books apart from titles for older readers is that we often share them with another person. Georgia Heard's text leans into this interactive experience, creating the space for distinct speakers in each poem. Each is intended as a sort of duet, with the text set in different colors to differentiate the alternating parts. The book relies heavily on the humor and child-friendly simplicity of animal noises, but the noises animals make are not always what you'd expect…the beauty of poetry for small children is that the sounds of words can be appealing long before their meanings are fully understood… Heard's engaging poems, paired with Aaron DeWitt's bright digital images of the natural world, are designed to bring readers together, and with an informative author's note on various elements of the natural world, they may also find a welcome role in the classroom." -- The New York Times Book Review
★ "Thirteen playful poems give young performers a chance to noisily shine as they explore the denizens of the wild. Poems are highly evocative…and many poems include notes to further guide readers in maximizing the mimicry (and the fun). The result is an opportunity for some startlingly effective natural noises, lively poetry, and glorious chaos…DeWitt also offers some elegant and dramatic spreads…Following in the estimable footsteps of Paul Fleischman, this work offers an irresistible invitation to its audience to join in the woooooooo, pzzzz pzzzz pzzzz, and peep of the natural world." – The Bulletin of the Center for Children's Books, starred review
"Kids love to make animal noises. The 13 poems in this collection vary in style, but all rely heavily on accurate animal sounds…(t)he poems could become part of a creative performance piece, and use as a home read-aloud could lead to playful adult-child interaction. The bold, digital illustrations have a painterly feel. Fascinating closing notes offer opportunities for caregivers to extend the instruction. In the hands of the right presenter, this book could lead to exciting aural experiences." – Kirkus Reviews

"In 13 short free-verse poems, Heard highlights animal calls, songs, and other noises…The entries…include notes related to the poem's performance…and considerably expanded notes for each poem at the end fill in background behavioral facts, as well as identify each animal depicted in…DeWitt's carefully detailed natural scenes. (T)he natural history…dovetails neatly into performer- and audience-pleasing mixes of words and onomatopoetic sound effects."— Booklist

"Animals of many kinds describe the sounds that they make in poems intended to be read aloud by two or more readers. DeWitt's digital collages show fine detail in the animals' features, depicting how their physical characteristics range as widely as their sounds. The use of onomatopoeia all but guarantees a lively group reading experience, while Heard's back matter includes engaging facts about the biodiverse subjects." – Publishers Weekly