New Release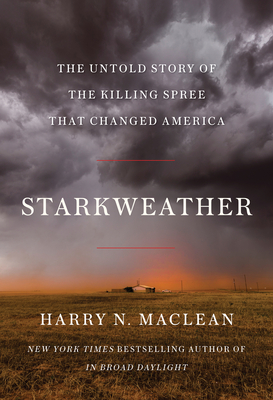 Starkweather: The Untold Story of the Killing Spree that Changed America
Publication Date:
November 28th, 2023
Usually Ships in 1 to 5 Days
Description
The definitive story of Charles Starkweather, often considered to be the first mass killer in the modern age of America
On January 21, 1958, nineteen-year-old Charles Starkweather changed the course of crime in the United States when he murdered the parents and sister of his fourteen-year-old girlfriend (and possible accomplice), Caril Ann Fugate, in a house on the edge of Lincoln, Nebraska. They then drove to the nearby town of Bennet, where a farmer was robbed and killed. When Starkweather's car broke down, the teenagers who stopped to help were murdered and jammed into a storm cellar. By the time the dust settled, ten innocent people were dead and the city of Lincoln was in a state of terror. Schools closed. Men with rifles perched on the roofs of their houses. The National Guard patrolled the street. If there is a cultural version of PTSD, the town suffered from it.
Starkweather and Fugate's capture and arrest, and the resulting trials about the killing spree, received worldwide coverage. The event would serve as the inspiration for the movie Natural Born Killers and Springsteen's iconic album Nebraska. Today, the story has dropped far from the national consciousness. With new material, new reporting, and new conclusions about the possible guilt or innocence of Fugate, the tale is ripe for an updated and definitive retelling. In Starkweather, bestselling author Harry N. MacLean tells the story of this shocking event and its lasting impact, a crime spree that struck deep into the heart of the heartland.
Praise for Starkweather: The Untold Story of the Killing Spree that Changed America
The Washington Post, A Best Nonfiction Book of the Year
Amazon, A Best History Book of the Month

"Starkweather is a story about a different time in a different America . . . [A] grim story, and that grimness is the paradoxical joy of reading MacLean—the raw chill creeping through your veins that feels authentic to the place and the crimes, the lean and vivid sentences rivaling Capote's In Cold Blood and Mailer's The Executioner's Song." —Carl Hoffman, The Washington Post
"Absorbing . . . A history of the murderer whose nihilism inspired generations of responses." —Christopher Borrelli, Chicago Tribune
"Without question, the best, most thorough and convincingly analyzed book about Starkweather and Fugate, and to some measure Lincoln, in the late 1950s, and is the definitive account of the first mass murder of the television age." —L. Kent Wolgamott, The Lincoln Journal Star
"A blockbuster of a book, [and] hard to put down . . . The stunning ending alone is reason enough to read it." —Sandra Dallas, The Denver Post
"A gripping tale, artfully told by a seasoned crime writer, whose deep dive into the historical records sheds new light on an old but still disturbing crime, and on the 1950s criminal justice system that was ill-equipped to handle this new genre of crime: the murder spree." —Maureen Stanton, New York Journal of Books
"Deeply empathetic . . . MacLean rights the record and gets deep into the psychology of not only his subjects, but their claustrophobic and constrained time and place." —Molly Odintz, CrimeReads
"A magisterial study of the infamous murders committed by 19-year-old Charles Starkweather across Nebraska and Wyoming in the 1950s . . . Propulsive . . . An instant true crime classic." —Publishers Weekly (starred review)
"An absorbing reconstruction of the tragic events that transpired in Lincoln, providing logic and reasoning along with testimony in debating Fugate's culpability. With the potential to change minds about long-ago crimes, this is all but destined to become a genre classic." —Booklist
"Covering a true crime that inspired the film Natural Born Killers, MacLean's book sheds new light on the case . . . [Starkweather] is expertly written. Crime aficionados will enjoy." —Library Journal
"Starkweather is a profound and beautiful reexamination and reinvestigation of a story that is instantly familiar. Not simply essential reading for true crime fans, but for anyone who wants to understand the root of our fascination with the genre. Mythbusting and surprising, MacLean's latest transcends the genre that it also elevates." —Ivy Pochoda, author of Sing Her Down
"Starkweather is a comprehensive, poetic, and brutal examination of American violence and our collective propensity for self-deception that upends everything you think you know about these so-called natural born killers. MacLean has penned an instant classic." —Tod Goldberg, author of Gangsters Don't Die
"Spellbinding. Starkweather is not only a chronicle of Charlie's brief life and crimes, but also a skillful examination of the dark moment when a shocking murder spree in an unexpected place collided with a nascent national media—and changed America forever. Anyone today who seriously wonders how our crimescape became so freakish must read this book. It's one of our most meticulously researched and important crime-history books in a long time." ––Ron Franscell, author of Deaf Row
"MacLean offers the most comprehensive work to date on the horrific murder spree launched in Nebraska by nineteen-year-old Charles Starkweather. As a community insider, MacLean presents a convincing case that the myth of teenage lovers on a murderous lark must be remedied. True-crime fans will be enthralled." —Dr. Katherine Ramsland, professor of forensic psychology and award-winning author of Confession of a Serial Killer
"Spellbinding. Starkweather is not only a chronicle of Charlie's brief life and crimes, but also a skillful examination of the dark moment when a shocking murder spree in an unexpected place collided with a nascent national media—and changed America forever. Anyone today who seriously wonders how our crimescape became so freakish must read this book. It's one of our most meticulously researched and important crime-history books in a long time." ––Ron Franscell, New York Times bestselling author of ShadowMan: An Elusive Psycho Killer and the Birth of FBI Profiling
"Harry N. MacLean's Starkweather examines the famous killing spree committed by a teenage couple, nineteen-year-old Charles Starkweather and fourteen-year-old Caril Fugate—a spree that shocked millions and changed forever how America thought of violence. Murder is a complex event. Its consequences ripple forever through the lives of those left to live with what was lost. What was lost in the Starkweather killings has never been so fully revealed as it is here, in MacLean's uncommon close reading of this legendary tragedy. Caril, who walked out of high school one afternoon and entered history in a way that nobody could have seen coming, is, in a way, the secret story in Starkweather. We thought we knew the story, but the author may have uncovered what had been hidden in plain sight since 1958." —Mikal Gilmore, author of Shot in the Heart