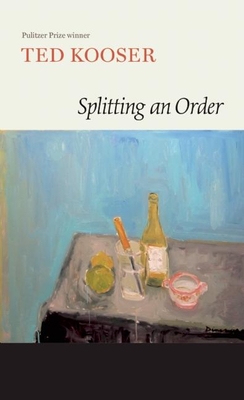 Splitting an Order
Publication Date:
November 29th, 2016
Publisher:
Copper Canyon Press
Usually Ships in 1 to 5 Days
Description
"Ted Kooser must be the most accessible and enjoyable major poet in America. His lines are so clear and simple." --Michael Dirda, The Washington Post
"Readers of Splitting an Order] will find 'characters' both strange and wonderful, animal or human. There is a sense that time is passing quickly and that everything worthy must be captured and savored." --Library Journal, starred review
"Kooser's ability to discover the smallest detail and render it remarkable is a rare gift." --Bloomsbury Review
Hailed by Library Journal as "a master of the single-metaphor poem," Pulitzer Prize winner and bestselling poet Ted Kooser calls attention to the intimacies of life through commonplace objects and occurrences. This collection--ten years in the making--is rich with quiet and profound magnificence.
I like to watch an old man cutting a sandwich in half
. . . and then to see him lift half
onto the extra plate that he asked the server to bring,
and then to wait, offering the plate to his wife
while she slowly unrolls her napkin and places her spoon,
her knife and her fork in their proper places,
then smoothes the starched white napkin over her knees
and meets his eyes and holds out both old hands to him.
Ted Kooser is the author of numerous books of poetry and prose, including Delights and Shadows (Copper Canyon), which won the Pulitzer Prize. A former US Poet Laureate, Kooser serves as editor for "American Life in Poetry," a nationally syndicated weekly newspaper column.