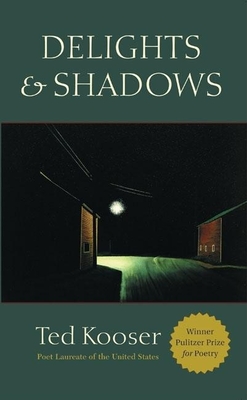 Delights & Shadows
Publication Date:
May 1st, 2004
Publisher:
Copper Canyon Press
Usually Ships in 1 to 5 Days
Description
Winner of the Pulitzer Prize in Poetry
Ted Kooser, who served as United States Poet Laureate (2004-2006), is a poet who works toward clarity and accessibility, so that each distinctive poem appears to be as fresh and bright and spontaneous as a good watercolor painting. He is a haiku-like imagist who imbues his poems with "tender wisdom," and draws inspiration from the overlooked details of daily life.
Praise for Delights and Shadows:
"Ted Kooser...has a genius for making the ordinary sacred."--The New York Times
"A sense of wonder and compassion runs through this Pulitzer Prize winning volume... Kooser's poetry is understated yet manages to skillfully illuminate the small moments of life."--Christian Science Monitor
" Kooser] brushes poems over ordinary objects, revealing metaphysical themes that way an investigator dusts for fingerprints. His language is so controlled and convincing that one can't help but feel significant truths behind his lines."--The Philadelphia Inquirer
"There is a sense of quiet amazement at the core of all Kooser's work, but it especially seems to animate his new collection of poems, Delights & Shadows. Every delight is shadowed by darkness in this book of small wonders and hard dualisms."--Edward Hirsch, The Washington Post
"Delights and Shadows is a book with a deep stillness at its center, perfectly self-contained."--Carol Muske-Dukes, Los Angeles Times
"Kooser's ninth collection of poems reflects the simple and remarkable things of everyday life. That he often sees things we do not would be delight enough, but more amazing is exactly what he sees. Nothing escapes him; everything is illuminated....Highly recommended."--Library Journal
"Few poets depict the Midwest so accurately or with such tender regard... Kooser excels at the brief, imagistic poem."--The Kansas City Star
"Delights and Shadows raises the voice of the poet above everything else. Each short, vivid poem on the page reads as if it were being spoken aloud. Details about cemeteries, dictionaries, a doctor's waiting room, and a jar of buttons bristle with sound and awareness. Kooser's ability to use brief lyrics to compose a music of discovery and regeneration makes his work radiant and consuming... This is not an extended, complex or experimental kind of writing, but poetry that rings true, allowing the human sound of being to exist on the page."--Bloomsbury Review
"Here is the gift and fragility of life."--The Wichita Eagle
"Kooser is a master of the subjective description. Empathetic without sentimentality, his eye ranges over all sorts of everyday subjects and finds material everywhere... wherever the unpredictable particularity of the world can be glimpsed... Perhaps Kooser's success lies in his determination to see the... things of this world with such clarity and passion that their underlying mysteries, delights, and shadows also become clear, if only for a moment."--The Georgia Review
"You can almost see Kooser behind the poems, watching the world like a sketch artist... Kooser displays the same kind of fluid strokes Degas used in his ballet pictures...He is an exquisite miniaturist of daily life."--The Hartford Courant
"The poet finds magic in activities and objects typically considered mundane... Metaphors are the treasure of these short, imagistic poems, emphasizing the wonder and delight latent in what is often merely taken for granted."--Harvard Review
"Kooser has written more perfect poems than any poet of his generation." --Dana Gioia
"Kooser is straightforward, possesses an American essence, is humble, gritty, ironic and has a gift for detail and a deceptive simplicity."--Seattle Post-Intelligencer
As Poet Laureate of the United States, Ted Kooser launched the weekly poetry column "American Life in Poetry," which appears in over 100 newspapers nationwide. He is the author of ten books of poems, including the collaboration with Jim Harrison, Braided Creek: A Conversation in Poetry (isbn 9781556591877).