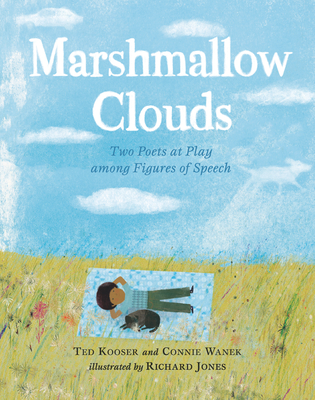 Marshmallow Clouds: Two Poets at Play among Figures of Speech
Publication Date:
March 15th, 2022
Usually Ships in 1 to 5 Days
Description
Celebrated poets Ted Kooser along with Connie Wanek, and illustrator Richard Jones, explore figures of speech in a spirited and magical way—and invite our imaginations out to play.
A freewheeling romp through the world of imagery and metaphor, this quietly startling collection of thirty poems, framed by the four elements, is about art and reality, fact and fancy. Look around: what do you see? A clown balancing a pie in a tree, or an empty nest perched on a leafless branch? As poet Connie Wanek alludes to in her afterword—a lively dialogue with former US Poet Laureate Ted Kooser—sometimes the simplest sights and sounds "summon our imaginations" and cry out to be clothed in the alchemical language of poetry. This compendium of the fleeting and unexpected turns the everyday—turtles, trees, and tadpoles; cow pies, lazy afternoons, and pillowy white marshmallows—into poetic gold. A brilliant and timeless collaboration that evokes both the mystery and grandeur of the natural world and the cozy, mundane moments of daily life, this exquisitely illustrated collection is the go-to gift book of the season for poetry fans of all ages.
Praise for Marshmallow Clouds: Two Poets at Play among Figures of Speech
Evocative and playful. . . Jones's full-bleed illustrations, rendered in paint and edited digitally, are striking even in their muted colors. In an afterword, Kooser and Wanek encourage readers to pay attention to their imaginations—all making for a perfect mentor text for students writing their own poems.
—The Horn Book (starred review)
Dense with imagery, wordplay, and blink-and-you'll-miss-'em slant rhymes. . . an ideal collection for groups with equally varied poetry comfort levels. Jones' paint and digital compositions are at once suggestive and spare enough to serve both readers who like a bit of visual support and those who prefer to spin their own mental images.
—The Bulletin of the Center for Children's Books (starred review)
Featuring poems ranging from whimsical to reflective, this illustrated collection by poets Kooser—former U.S. Poet Laureate—and Wanek spans an array of topics. . . Lovely, richly hued and textured paintings, a blend of evocative abstract and figural images, complement and reflect the poems' multifaceted sensibilities. . . . an intriguing, often thought-provoking addition to collections, one poetry aficionados will likely revisit.
—Booklist (starred review)
Ordinary moments sparkle with imagery, beauty, and wit in this illustrated collaboration between former U.S. Poet Laureate Ted Kooser and noted poet ­Connie Wanek. . . . . An enjoyable choice for introducing poetry and literary devices for all ages. . . A must purchase.
—School Library Journal (starred review)
Jones incorporates images from each poem into subdued landscapes or domestic settings…often to lovely effect. . . Imagination stretchers, likely to appeal most to introspective readers fond of finding unexpected pairings and connections.
—Kirkus Reviews (starred review)
A delightful word journey through the world of everyday places and things. Using twists of phrases and word play, the authors nudge readers to actually think about what they see when they look at everyday things and to let their imagination soar. . . . This is a volume to be read again and again while savoring both the language and the pictures. . . . These joyful, beautiful poems stand on their own and will make vivid pictures in the minds of all readers. An excellent choice.
—School Library Connection (starred review)
Jones echoes the authorial duo's restraint, and the speaker's rural familiarity with owls, meteors, plows, and more; contrasting hues provide drama, as in scenes of a bleached moon in a dark winter sky, or a red shirt against a blue sofa. The poems evoke interior perception, reveal life through the poetic gaze, and give voice to the soft singing that goes on and on.'
—Publishers Weekly (starred review)
A finer collection of poetry you couldn't hope to find this year. Little wonder, as it comes to us via working poet Connie Wanek and Ted Kooser, a former U.S. poet laureate. Some adult poets may talk down to kids when they try their hand at verse for the young. Wanek and Kooser, in contrast, revel in evocative metaphors that are deepened and appreciated with the aid of Richard Jones' hypnotic watercolors."
—NPR
The book feels attuned to the fanciful way so many children are naturally inclined to view the world, and to guide them to an even deeper immersion. . . Spare and wholesome yet richly evocative, Richard Jones' illustrations — of meteor showers, snowy moonlit fields, horses amid papery white birch trees and more — enhance and deepen the charm of each poem.
—The Star Tribune
Gorgeous and assured.
—The Virginian Pilot
If you are going to introduce your child to poetry, you can't get much better than Kooser and Wanek…. This is a beautiful book with poems to be savored — sophisticated enough for adults and simple enough for kids.
—Pioneer Press
Meaningful. . . I see this picture book as a role model that could help young poets of all ages do a better job of thinking.
—The Arkansas Democrat-Gazette
Marshmallow Clouds is one of those books that works so effectively for young readers that it feels as though the co-authors (co-poets?) had been honing their talents for kids, specifically, for years. One of those books that will subtly coil its way around your heart. . . one of the best collections of original children's poetry I've ever read. . . a beautiful book that could have the power to make your boisterous children introspective, if only for a moment
—A Fuse #8 Production
Inside this book you'll find poems that stick inside your brain, no matter how resistant you might be to the form. Kooser and Wanek are clearly engaged in some kind of sorcery since you can never figure out where one poet started and the other stopped. It's introspective, to say the least, and incredibly lovely. Probably the most impressive book of children's poetry in years and definitely worth a serious conversation.
—A Fuse #8 Production
A beautiful collection for budding poets, readers will go on an adventure through fire, water, air and earth. Each poem is accompanied by beautiful illustrations from Richard Jones and explores the beauty of the world around us.
—Tiny Beans