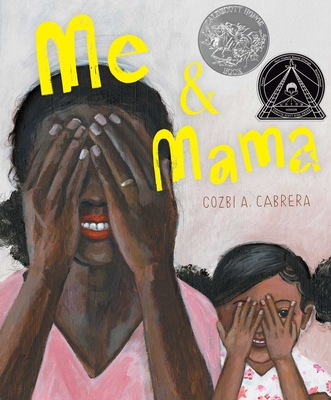 Me & Mama
Publication Date:
August 25th, 2020
Publisher:
Denene Millner Books/Simon & Schuster Books for Young Readers
Usually Ships in 1 to 5 Days
Description
A Caldecott and Coretta Scott King Honor Book
Mama's love is brighter than the sun, even on the rainiest of days. This celebration of a mother-daughter relationship is perfect for sharing with little ones!
On a rainy day when the house smells like cinnamon and Papa and Luca are still asleep, when the clouds are wearing shadows and the wind paints the window with beads of water, I want to be everywhere Mama is.
With lyrical prose and a tender touch, the Caldecott and Coretta Scott King Honor Book Mama and Me is an ode to the strength of the bond between a mother and a daughter as they spend a rainy day together.
Praise for Me & Mama
"Mother-daughter pairings of swimsuits, flower bouquets, and bicycles are presented in small, bright vignettes on the endpapers of Cabrera's cozy tale, serving as appetizers for the visual feast within. Impressively detailed scenes, from the first spread, which shows the child coming downstairs, to her mama's artfully designed workspace to a later scene of the little girl drifting off to sleep haloed by stars and dreaming of day with her mother, are rendered with visible daubs of acrylic paint...still, the greatest delight is in the images that vibrantly showcase their simple, loving connection. A beautifully illustrated, slice-of-life ode of adoration for doting daughters and marvelous mamas." - Kirkus Reviews
"Lush acrylic hues of color wash every double-page spread while spare text describes the tender feelings a small Black child with curly, high-bunched pigtails has for her beautiful mother. Simple words express the little one's emotions as she eagerly wakes up in the morning to enjoy their daily activities together...a warm tribute to a special family relationship and comforting home." - Booklist
*** "A young Black girl enjoys a rainy day alone with her mother, savoring each ordinary moment for the joyful expression of love it represents...the muted color palette and painterly style of the art evoke a cozy sense of security. While realistically portrayed, each image has a soft, dreamlike quality that also highlights the timelessness of the story. VERDICT A strong portrait of familial connection, this title captures the essence of unconditional love between parent and child, and is recommended for all picture book collections." - School Library Journal, starred review
"Cabrera's poetic writing shares the child's love for her mother in detailed bite-sized chunks...while Me & Mama offers a canvas onto which all children can draw their life experiences, it is primarily a beautifully celebratory mirror of Black life and family. Gentle and soft, Me & Mama is a loving bedtime story or a soothing read-aloud. 
Discover: An endearing picture book about the love a daughter has for her mother." - Shelf Awareness
*** "Sensory details, fittingly tangential childlike observations, and familial dialogue make the narrative feel immediate and genuine...the narrative offers an elegant testament to the love-filled bonds between child and parent." - Publishers Weekly, starred review 
"Cabrera brings a joyous Black family and their eloquent yet cozy home to vivid life in brightly colored, highly detailed acrylic illustrations...Me & Mama is a picture book love letter that captures the extraordinary bond between a mother and daughter on a completely ordinary day." - BookPage
*** "Celebrating the beautiful dark brown skin of the duo, and surrounded by various hues of blue, Cabrera's color-saturated illustrations, a mix of single pages and double-page spreads, add to the gentle charm of the conversational text." - Horn Book Magazine, starred review