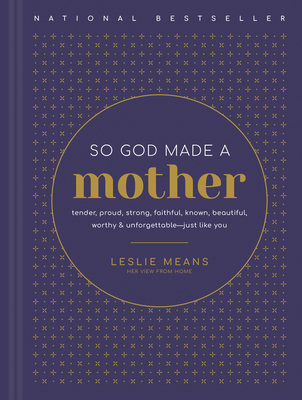 So God Made a Mother: Tender, Proud, Strong, Faithful, Known, Beautiful, Worthy, and Unforgettable--Just Like You
Publication Date:
April 18th, 2023
Publisher:
Tyndale Momentum
Usually Ships in 1 to 5 Days
Description
When God made a mother, He had you in mind.
Are you a mother?
Do you have a mother?
Do you know a mother?
If the answer to any of these questions is yes, So God Made a Mother is for you.
Join Leslie Means, founder of the popular website Her View From Home, as she weaves together a powerful, emotional collection of essays from women of all ages and stages. These real-life, straight-to-the-heart stories will make you laugh, cry, and nod along.
No two mothers are alike. No two experiences in motherhood mirror each other. But something powerful happens when our stories come together: they speak love, worth, value, and beauty. They take the undefinable experience of motherhood and give it shape and substance and strength. They speak to us all.
So God Made a Mother promises to show you the incomparable heart of a mother . . . a mother just like you.