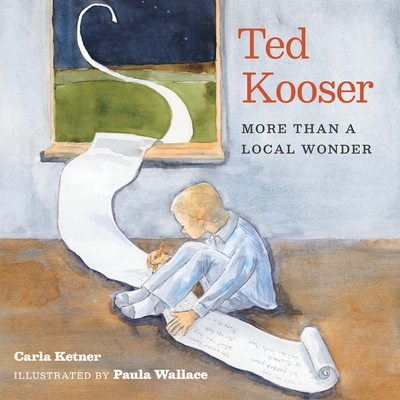 Ted Kooser: More Than a Local Wonder
Publication Date:
November 1st, 2023
Publisher:
University of Nebraska Press
Usually Ships in 1 to 5 Days
Description
Long before Ted Kooser won a Pulitzer Prize for Poetry, served as the U.S. Poet Laureate, and wrote award-winning books for children, he was an unathletic child growing up in Iowa, yearning to fit in. Young Teddy found solace in stories, and one specific book, Robert McCloskey's Lentil, inspired him to become a writer. As a child and later, while working in the insurance industry, Ted honed his craft and unique style as he wrote about the people and places of the rural Midwest. Ted Kooser: More Than a Local Wonder celebrates the power of stories and of finding oneself through words.
Praise for Ted Kooser: More Than a Local Wonder
"In this quiet picture-book tribute to the Midwestern poet and children's book author, Ketner incorporates phrases and images from Kooser's works while looking to sources of inspiration in his youth."—John Peters, Booklist
"From the collaged endpapers illustrated with watercolor vignettes and short childlike verse to reproductions of several of the poems for which Kooser became well known, this spare, quiet picture-book biography honors the former United States poet laureate. . . . Ketner's text and Wallace's paintings mingle effectively to provide the proper mood to share Kooser's remarkable story."—Christina Dorr, Horn Book Magazine
"A tender book celebrating the beloved American poet Ted Kooser, thoughtfully written by Carla Ketner and lovingly illustrated by Paula Wallace, may encourage a whole new crop of young writers. Pay attention to your close places, listen to your people, find what feeds your imagination—a joyous yes!"—Naomi Shihab Nye, Young People's Poet Laureate emeritus, the Poetry Foundation
"Carla Ketner's captivating, lyrical style beautifully illustrates Ted Kooser's life—from small-town misfit to U.S. Poet Laureate—with grace, wonder, and, above all, heart."—Jill Esbaum, author of Little Kids First Big Book of How
"This delightful portrait of U.S. Poet Laureate Ted Kooser as a child will inspire many young people (and no doubt many of their parents) to trust their hearts and imaginations, and make writing, reading, listening, and observing important parts of their own journeys. The charming illustrations make this book wonderfully engaging."—Connie Wanek, author of Rival Gardens: New and Selected Poems
"As a boy, Ted Kooser did not know that the stories he heard about beloved people and places would someday lead him to finding his own voice as a writer. This lyrical picture book biography with luminous watercolor art shows younger readers how patience and persistence can help dreams come true."—Karla Wendelin, children's poetry blogger and former professor of children's literature at the University of Nebraska–Lincoln
"Ted Kooser: More Than a Local Wonder tells the tale of young Teddy, who from the Midwestern fields and skies, builds a world of words: poems and stories. The threads of Teddy's childhood in Carla Ketner's nimble free verse weave into a fine quilt as adult Ted is named U.S. Poet Laureate. . . . Delicate and rich illustrations by Paula Wallace compliment the text and readers both new and familiar with Kooser's work will find themselves at home, filling in their own empty spaces with the wonder of words."—Bethany Hegedus, founder of the Writing Barn and award-winning author of Rise! From Caged Bird to Poet of the People, Maya Angelou