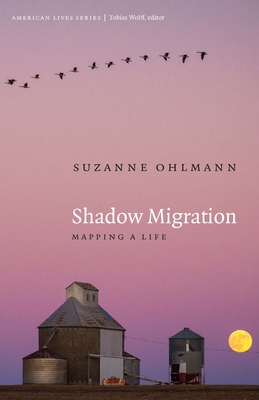 Shadow Migration: Mapping a Life (American Lives )
Publication Date:
March 1st, 2022
Publisher:
University of Nebraska Press
Usually Ships in 1 to 5 Days
Description
With her feet firmly rooted on the plains of Nebraska, Suzanne Ohlmann launches the reader into flight over miles and decades of migration: from an apple-pie childhood in America's Fourth of July City to the dirt floors of a cowshed in rural India, we zigzag across time and geography to see the world through Ohlmann's eyes and to discover with her the pain she'd been avoiding through her boomerang travels away from her native home.
Through incarnations as a musician, arts manager, and registered nurse, Ohlmann finally lands in Texas, buys a house, and gets a dog. But her house is haunted, and so is she. In the dark solitude of Ohlmann's basement the vision of a dead child presents her with a harrowing choice: she can go home to Nebraska and seek the truth of her biological past, or, like the boy, surrender to the depths of her own darkness. With honesty, compassion, and a sense of humor, Ohlmann recounts her tenacious search into the shadows of her life.
 
Praise for Shadow Migration: Mapping a Life (American Lives )
"Ohlmann reveals herself to be a brave soul who reaches for the light while never turning from the dark. Her story sparkles with such insight and honesty, gutsy humor and restrained (midwestern) bravado, I felt bereft when I had to turn the last page and leave her."—Beverly Donofrio, author of Riding in Cars with Boys and Astonished
"I was moved and awed by Ohlmann's honesty about the deep pain surrounding her adoption, her ability to take me from a choral performance (that goes gastrically awry) to her mother's table—which you better be at by 5:30—to Nebraska's multitudinous sandhill cranes (those cranes!). Although we couldn't be much more different on paper, I couldn't have related more."—Patricia Resnick, screenwriter of 9 to 5, Straight Talk, and Better Things
"What's unique about Suzanne Ohlmann's Shadow Migration is the way in which she brings the many layers of her identity into the urgent search for her source. Ohlmann is an adoptee searching for a birthday do-over with migrating cranes, but she is also a musician and a nurse, a lover and a wife, a Nebraskan and a world traveler, a woman suffering from depression and a really good friend. I'd follow her anywhere."—Jill Christman, author of Darkroom: A Family Exposure