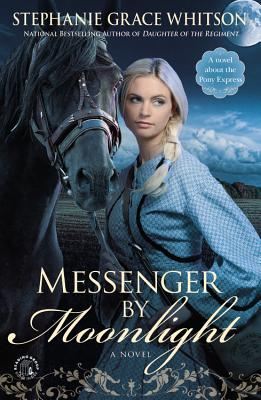 Messenger by Moonlight: A Novel
Publication Date:
May 10th, 2016
Usually Ships in 1 to 5 Days
Description
Bestselling author Stephanie Grace Whitson's latest historical novel features an adventurous young heroine who works for the Pony Express.
Orphaned Annie Paxton and her brothers may have lost the only home they've ever known, but they're determined to make a better future in St. Joseph, Missouri. Annie dreams of a pretty house with window boxes, and having friends, and attending church every week. But then her brothers spot the ad for a new venture called the Pony Express. "Wanted," it reads, "Young, skinny fellows not over eighteen. Must be expert riders and willing to risk death daily. Orphans preferred." Sure enough, both her brothers land jobs as Express messengers, and Annie puts her dreams on hold to work as a cook at Clearwater Ranch, a station along the Pony Express route.
Annie struggles to adapt to her new job -- work made all the more challenging when she has so many to feed and few ingredients. The gruff station owner, George, doesn't seem inclined to make her life any easier, or at least not at first. But slowly a friendship builds between them. When Annie attracts the attention of a refined, dashing lieutenant from the nearby fort, she'll have to learn how to trust her instincts and follow her heart, even if she's conflicted about which way it's leading her.
Praise for Messenger by Moonlight: A Novel
"Whitson's fascinating look at the Pony Express and those who lived in the Midwest during that time is entertaining and intriguing. The romance is unexpected, beautifully developed and well-balanced with action and family drama. The faith message is touching and relevant."—RT Book Reviews on Messenger by Moonlight
"Messenger by Moonlight is a well-researched tribute to the strong and courageous men and women of the Pony Express."—Historical Novel Society
"Whitson writes amazing stories."—RT Book Reviews
"Whitson celebrates the strong but unknown heroines who marched off to war with their men, as well as those who maintained the home front, in this Civil War-era inspirational...Based on true events, this story will capture the hearts of historical fiction fans."—Publishers Weekly on Daughter of the Regiment
"This stand-alone novel has all the makings of a great romance: love, intrigue, mystery and unforgettable characters. Whitson's historical details on female riverboat captains are incredible. She brings to life a long-gone way of life on the river when women far superior than their male counterparts had to prove their worth."—RT Book Reviews, starred review, on A Captain for Laura Rose
"A vivid portrait of life on the Missouri River, from the cramped quarters of the packet boat, through the outpost settlements up the river, to the squalid docks of St. Louis. . .[A]n entertaining historical tale of faith, action, and romance."—Publisher's Weekly on A Captain for Laura Rose
"Stephanie Whitson is a master storyteller who has once again woven a tale of adventure, romance and inspiration that will touch your heart. A Captain for Laura Rose is a novel rich with exciting details of riverboat life during the 19th century and the well-drawn characters will steal your heart. Don't miss this exceptional read."—Judith Miller, award winning author of the Home to Amana series on A Captain for Laura Rose