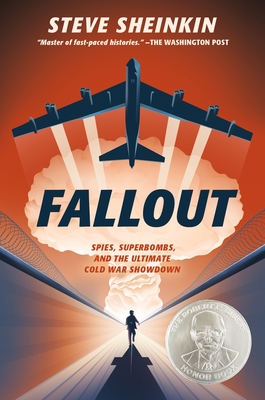 Fallout: Spies, Superbombs, and the Ultimate Cold War Showdown
Publication Date:
September 7th, 2021
Publisher:
Roaring Brook Press
Usually Ships in 1 to 5 Days
Description
New York Times bestselling author Steve Sheinkin presents a follow up to his award-winning book Bomb: The Race to Build--and Steal--the World's Most Dangerous Weapon, taking readers on a terrifying journey into the Cold War and our mutual assured destruction.
As World War II comes to a close, the United States and the Soviet Union emerge as the two greatest world powers on extreme opposites of the political spectrum. After the United States showed its hand with the atomic bomb in Hiroshima, the Soviets refuse to be left behind. With communism sweeping the globe, the two nations begin a neck-and-neck competition to build even more destructive bombs and conquer the Space Race. In their battle for dominance, spy planes fly above, armed submarines swim deep below, and undercover agents meet in the dead of night.
The Cold War game grows more precarious as weapons are pointed towards each other, with fingers literally on the trigger. The decades-long showdown culminates in the Cuban Missile Crisis, the world's close call with the third—and final—world war.

Winner of the 2022 Kids' Book Choice Award for 6th to 8th Grade Book of the Year
A Shelf Awareness Best Children's Book of 2021
A Chicago Public Library Best of the Best Book of 2021
A Horn Book Fanfare Best Book of the Year
Praise for BOMB:
A Newbery Honor book
A National Book Awards finalist for Young People's Literature
A Washington Post Best Kids Books of the Year title
"This is edge-of-the seat material that will resonate with YAs who clamor for true spy stories, and it will undoubtedly engross a cross-market audience of adults who dozed through the World War II unit in high school." —BCCB, starred review
"...reads like an international spy thriller, and that's the beauty of it." —School Library Journal, starred review
"[A] complicated thriller that intercuts action with the deftness of a Hollywood blockbuster." —Booklist, , starred review
"A must-read…" —Publishers Weekly, starred review
"A superb tale of an era and an effort that forever changed our world." —Kirkus
Also by Steve Sheinkin:
The Notorious Benedict Arnold: A True Story of Adventure, Heroism & Treachery
The Port Chicago 50: Disaster, Mutiny, and the Fight for Civil Rights
Undefeated: Jim Thorpe and the Carlisle Indian School Football Team
Most Dangerous: Daniel Ellsberg and the Secret History of the Vietnam War
Which Way to the Wild West?: Everything Your Schoolbooks Didn't Tell You About Westward Expansion
King George: What Was His Problem?: Everything Your Schoolbooks Didn't Tell You About the American Revolution
Two Miserable Presidents: Everything Your Schoolbooks Didn't Tell You About the Civil War
Born to Fly: The First Women's Air Race Across America
Praise for Fallout: Spies, Superbombs, and the Ultimate Cold War Showdown
"In this gripping account, Newbery Honor Book author and Sibert medalist Sheinkin offers an intense narrative that captures the terrifying tensions of the Cold War." —Booklist, starred review
"Sheinkin reprises his role as masterful, ever-so-wry storyteller, winking his audience into complicity in his critique of boneheaded brinksmanship..." —The Bulletin of the Center for Children's Books, starred review
"In tightly organized chapters adorned with historical photos, Sheinkin seamlessly weaves the stories of different players and includes meticulously well-researched details to personalize and humanize his subjects... A first purchase for all teen collections." —School Library Journal, starred review

"Throughout, the highly charged narrative maintains a strong perspective and keen attention to detail, rounding out the figures involved—such as the American pilot Gary Powers, who flew U-2 jets to spy on Russia—with character and personality." —Publishers Weekly, starred review
"Steve Sheinkin recounts the "most intense years of the Cold War" with a cinematic writing style that is keenly detailed... Look no further for informative and entertaining nonfiction." —Shelf Awareness, starred review

"Sheinkin crafts an epic narrative with a large cast of characters, far-flung settings, multiple plot strands, and rising suspense, further evidence that one of our best nonfiction writers is also one of our best storytellers." — Book Horn Magazine, starred review
"Steve Sheinkin's new nonfiction thriller about the Cold War is like one of its key emblems, the U-2 spy plane: fast, lean and able to survey a huge amount of territory." —The New York Times
"An account of a gripping real-life adventure that isn't over yet." —Kirkus Reviews