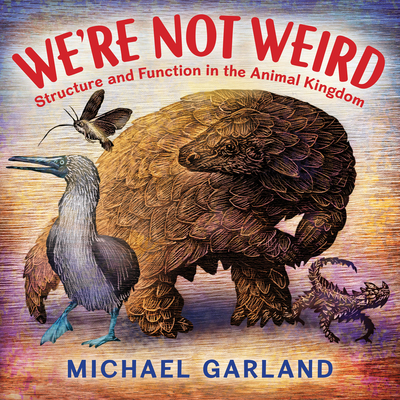 We're Not Weird: Structure and Function in the Animal Kingdom
Publication Date:
January 3rd, 2023
Usually Ships in 1 to 5 Days
Description
Meet nature's most extraordinary looking creatures. But they aren't weird!
Birds with blue feet, fish that walk, unicorns in the sea, and more! Learn how these animals' quirks help them survive. Perfect for budding naturalists who are always ready to share a cool (or gross) animal fact. 
Very hard scales protect me, and my long tongue is perfect for eating ants. When I feel threatened, I roll myself into a ball. I am a Pangolin.
See these animals' amazing body parts in vibrant and detailed woodcut illustrations, from the thorny dragon's spiky skin to the star-nosed mole's twenty-two feelers. Read how these creatures' unique traits help them thrive and survive in their environments. Learn where they live, what they eat, how they protect themselves, and more. 
With easy-to-read text vetted by an expert, this book aligns with the Next Generation Science Standards on adaptation, structure, and function for kindergarten through 3rd grade. With supplementary information on each animal's habitat and diet.
Praise for We're Not Weird: Structure and Function in the Animal Kingdom
"Delightfully atypical picture book fodder. The impressive utility of the features on display reinforces the group's opening and closing declaration: 'We're not weird.'"—Publishers Weekly
"The woodcut-style illustrations are captivating, colorful, and detailed. Their attractiveness will draw young readers and animal lovers alike to this book. This would be a great choice for a picture book introduction to animal adaptations and will appeal to teachers who run units and/or lessons on this topic."—School Library Journal
 
"Animal enthusiasts will be enthralled."—Booklist
"The art is something to see. . . ."—Kirkus Reviews