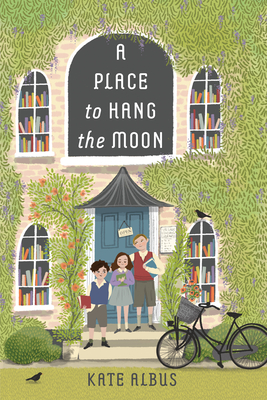 A Place to Hang the Moon
Publication Date:
February 2nd, 2021
Publisher:
Margaret Ferguson Books
Usually Ships in 1 to 5 Days
This is a heart-warmer! Three orphaned children, determined to stay together, are sent out of London to the safety of the country during the Blitz. All is not happy, but the library is a refuge. Love for reading and for family combine to make this one of the most satisfying books I have read in a long time. It stands right up with the Penderwicks and the Vanderbeekers, and it is perfect for middle-grade readers.
Spring 2021 Kids Indie Next List
Description
A heartwarming story about three siblings, evacuated from London to live in the countryside, looking for a permanent home--and a new meaning for family.
A New York Public Library Best Book of the Year
It is 1940 and William, 12, Edmund, 11, and Anna, 9, aren't terribly upset by the death of the not-so-grandmotherly grandmother who has taken care of them since their parents died.
But the children do need a guardian, and in the dark days of World War II London, those are in short supply, especially if they hope to stay together. Could the mass wartime evacuation of children from London to the countryside be the answer?
It's a preposterous plan, but off they go-- keeping their predicament a secret, and hoping to be placed in a temporary home that ends up lasting forever. Moving from one billet to another, the children suffer the cruel trickery of foster brothers, the cold realities of outdoor toilets and the hollowness of empty stomachs.
But at least they find comfort in the village lending library-- a cozy shelter from the harshness of everyday life, filled with favorite stories and the quiet company of Nora Müller, the kind librarian.  The children wonder if Nora could be the family they've been searching for. . . . But the shadow of the war, and the unknown whereaouts of Nora's German husband complicate matters. 
A Place to Hang the Moon is a story about the importance of family: the one you're given, and the one you choose. Filled with rich, sensory prose, allusions to classic children's stories like A Little Princess, Mary Poppins, and The Story of Ferdinand, this cozy tale with a classic feel is sure to warm your heart. Don't miss Kate Albus's Nothing Else But Miracles which takes place in New York City during WWII and was described as "historical fiction at its finest" in a starred review from School Library Journal.
An ALSC Notable Children's Book
An SCBWI Crystal Kite Award Winner
A Junior Library Guild Gold Standard Selection
Named to the Pennsylvania Young Readers Choice List
A CCBC Choice
Praise for A Place to Hang the Moon
"With its traditional arc, valiant young characters, and attention to culinary detail ('slices of warm bread flecked with currants and slathered with butter'), this is an assured and satisfying story."—The Wall Street Journal
★ "Both touching and genuine, the historical novel A Place to Hang the Moon speaks to the power of stories and families, both of which can be found in the most unexpected places."— Foreword Reviews, Starred Review
★ "The narrative is fresh, lively, and captivating. The characters are drawn with conviction and a good deal of empathy. Lit by wit and humanity, the novel offers a heartening story in which three resourceful children keep a secret, find what they long for, and treasure it." —Booklist, Starred Review
★ "Told in third person, Albus's rich character descriptions and quick story pace will keep tweens turning the pages until the very end. . . . Readers will laugh, cry, and root for the three siblings as they endeavor to survive in this endearing tale."—School Library Journal, Starred Review
"Heartwarming . . . Albus infuses the closely bonded siblings' search for found family with dry humor [and] affectionate and authentic-feeling characterization" —Publishers Weekly
"It's in the often crisp, often cozy detailing and the ever-so-British turns of phrase . . . that this novel claims a place among the most kid-pleasing orphan stories. The loyal bonds among the Pearce siblings and Mrs. Müller's bottomless well of patience, ingenuity, and perfectly tailored reading lists will have readers aching to swap their own messier families, however briefly, for the Pearces' home and hygge." —The Bulletin of the Center for Children's Books
"A wartime drama with enough depth and psychological complexity to satisfy budding bookworms." —Kirkus Reviews