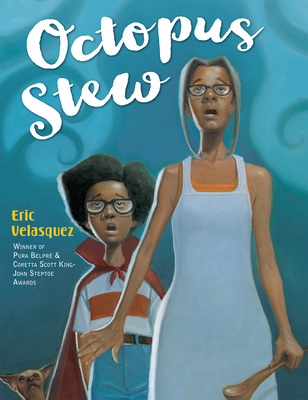 Octopus Stew
Publication Date:
September 17th, 2019
Usually Ships in 1 to 5 Days
Description
What do you do when an octopus captures Grandma? Put on your superhero cape and rescue her! This clever picture book tells two stories in one, from award-winning Afro-Latino artist Eric Velasquez.
The octopus Grandma is cooking has grown to titanic proportions. "¡Tenga cuidado!" Ramsey shouts. "Be careful!" But it's too late. The octopus traps Grandma!
Ramsey uses both art and intellect to free his beloved abuela.
Then the story takes a surprising twist. And it can be read two ways. Open the fold-out pages to find Ramsey telling a story to his family. Keep the pages folded, and Ramsey's octopus adventure is real.
This beautifully illustrated picture book, drawn from the author's childhood memories, celebrates creativity, heroism, family, grandmothers, grandsons, Puerto Rican food, Latinx culture and more.
With an author's note and the Velasquez family recipe for Octopus Stew!

A Bank Street Best Book of the Year
Praise for Octopus Stew
"Velazquez draws a great octopus, the intense primary color palette is wonderfully energized for a group read-aloud, and the story provides an invitation for families to create tall tales together."—The New York Times
★ "With love and humanity, Velasquez (Looking for Bongo, Grandma's Gift) once again affirms young Black Latinx boys' identities and family experiences. . . . With the exaggerated detail of a tall tale and the pacing and sound effects ('Bloop, Bloop, Bloop, Brrrr') of oral storytelling, Velasquez depicts an intergenerational tale filled with food, family, humor, and love (fans of Looking for Bongo will find some familiar characters). The oil-paint illustrations effectively convey the story's larger-than-life supernatural elements as well as the protagonists' affectionate relationship; the many shades and features of Afro-Latinx families are displayed, including in a central foldout spread that contains a humorous and effective narrative surprise."—The Horn Book, Starred Review
★ "Pura Belpré and Coretta Scott King-John Steptoe honor winner Velasquez will surprise primary grade readers with a story that is as fascinating and hilarious as it is absurd. The English text intertwines with Spanish phrases that provide a multicultural approach and validates the boy's family background. The vibrant paintings, done in oils, strike the eye with large and expressive characters. . . . A hilarious read-aloud that could be read during a storytime."—School Library Journal, Starred Review
"Realistic oil paintings bring to life the action and excitement of encountering a giant octopus. Important cultural notes are detailed in the story and pictures through emphasis on art, storytelling, musical instruments, and more. Spanish dialogue mixes fluidly into the primarily English text, with a glossary providing definitions and pronunciations of Spanish terms. Happily, Velasquez also includes a recipe for octopus stew."—Booklist
"A delightful modern tall tale sure to entertain and inspire readers to share (and embroider) their own stories."—Kirkus Reviews
<
<"Oil paintings by Velasquez (Looking for Bongo) have a lush, generously sculptural feel—a heightened comic realism that's perfect for this domestic tall tale, its multi-armed nemesis, and the wonderful gatefold twist that occurs at the action's height." —Publishers Weekly
"It's just such a nice book with beautiful illustrations and about a kid being a kid—and he's a really cool kid who anyone can identify with. I wish I had books like that to read to my sons, and I definitely wish I had something like that to read when I was a kid."—Jerry Craft, author of New Kid