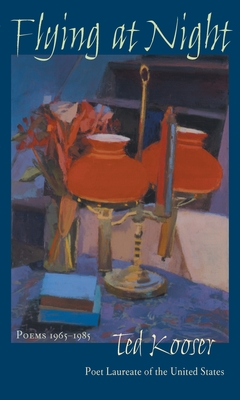 Flying At Night: Poems 1965-1985 (Pitt Poetry Series)
Publication Date:
March 11th, 2005
Publisher:
University of Pittsburgh Press
Description
Named U.S. Poet Laureate for 2004-2006, Ted Kooser is one of America's masters of the short metaphorical poem. Dana Gioia has remarked that Kooser has written more perfect poems than any poet of his generation.
In Flying at Night: Poems 1965-1985, Kooser has selected poems from two of his earlier works, Sure Signs and One World at a Time (1985). Taken together or read one at a time, these poems clearly show why William Cole, writing in the Saturday Review, called Ted Kooser "a wonderful poet," and why Peter Stitt, writing in the Georgia Review, proclaimed him "a skilled and cunning writer. . . . An authentic 'poet of the American people.'"
Praise for Flying At Night: Poems 1965-1985 (Pitt Poetry Series)
"Will one day rank alongside of Edgar Lee Masters, Robert Frost, and William Carlos Williams."
—Minneapolis Tribune
"Ted Kooser is a poet whose company will always be welcome, whether in Nebraska or in East Anglia."
—Hudson Review
"His trademark star turn: Kooser smoothly, seamlessly elevates the humdrum moments to the sublime. . . . His attitude that 'poetry is communication' is refreshing in an era when so many poets seem to be babbling to themselves, giving us pages ripped out of their narcissistic diaries."
—San Francisco Chronicle
"Now that he has been appointed Poet Laureate of the United States, he should receive the readership he deserves."
—TLS (Times Literary Supplements)