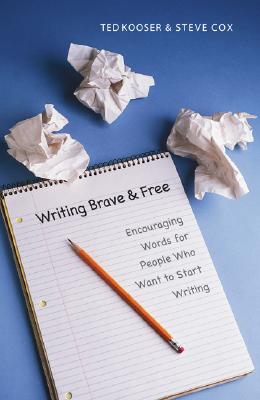 Writing Brave and Free: Encouraging Words for People Who Want to Start Writing
Publication Date:
March 1st, 2006
Usually Ships in 1 to 5 Days
Description
Sometimes setting pen to paper requires bravery, and writing well means breaking free of the rules learned in school. Liberating and emboldening the beginning writer are the goals of Ted Kooser and Steve Cox in this spirited book of practical wisdom that brings to bear decades of invaluable experience in writing, teaching, editing, and publishing.
Unlike "how to write" books that dwell on the angst and the agony of the trade, Writing Brave and Free is upbeat and accessible. The focus here is the work itself: how to get started and how to keep going, and never is heard a discouraging word such as "no," "not," or "never." Because of the wealth of their experience, the authors can offer the sort of practical publishing advice that novices need and yet rarely find. Organized in brief, user-friendly chapters—on everything from sensory details to a work environment, from creating suspense to revising and taking criticism—the book allows aspiring (and practicing) writers to dip in anywhere and find something of value.
Praise for Writing Brave and Free: Encouraging Words for People Who Want to Start Writing
"Practical and upbeat advice."—UU World
"The gentle, conversational voice of team Kooser and Cox offers courage and wisdom to new writers. You can do it, they say, we know you can, and we're here to show you how. Practical and inspirational, they lead writers to the pleasures of shaping, to the surprising stories that no one else can write, to expeditions into the deep-woods territory of memory, and to demystification of the publishing process. 'The writer's goal,' our coaches say, 'is to light up the sky.' They have practiced what they preach. Writing Brave and Free is a liberating, illuminating guide."—Meg Files, author, and chair of the English Department at Pima Community College
"What a treasure to have a second how-to book of this caliber enter the world for developing writers. . . . [T]his is a practical, down-to-earth, advice-driven collection of smart, unpretentious chapters on the work of becoming a writer. . . . The section on self-publishing and electronic publishing will be especially important to today's younger writers. . . . The greatest strength of this book is its friendly, don't-be-afraid-we'll-help-you tone, a must for people who are just beginning their writing endeavors. . . . [This] will be an essential tool for anyone considering the adventure of writing." —Anne-Marie Oomen, ForeWord
"One of the most down-to-earth, user-friendly texts I've seen."—Erika Dreifus, Writer
"If you've yearned for the courage to put pen to paper, or hands to keyboard, after reading Writing Brave and Free, you probably will."—Marge Pellegrino, Tucson Weekly
"These two are a pair of crafty old uncles who anticipate your writing dilemmas and offer you examples of how they and others have resolved them. While they'd never be so bold as to tell you what to do, they'll politely steer you along the proper path."—Arizona Daily Star