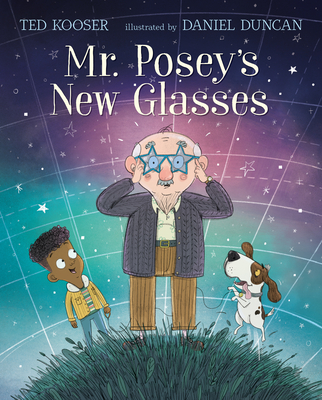 Mr. Posey's New Glasses
Publication Date:
April 16th, 2019
Usually Ships in 1 to 5 Days
Description
In a charming tale of an elderly man and his obliging young friend, former poet laureate Ted Kooser and newcomer Daniel Duncan invite us to look at the world with fresh eyes.
Mr. Posey is feeling gloomy. Everything seems dull. Maybe he needs new glasses? Perhaps a trip to the Cheer Up Thrift Shop with his energetic young neighbor, Andy, will help. But when the duo try on the glasses in the shop's barrel, they're in for a big surprise. One pair with stars for frames shows only constellations in a night sky. Round frames reveal a world all aswirl, while a heart-shaped pair makes everything pink. And as soon as Mr. Posey puts on the cat-eye framed glasses, fierce dogs start chasing him. No, thank you! But when Andy makes a simple observation, Mr. Posey's view opens to a whole new world — and finally everything is brighter, different, and exciting.
About the Author
Ted Kooser was the U.S. Poet Laureate from 2004 to 2006 and won a Pulitzer Prize for his book of poems Delights & Shadows. He is the author of more than a dozen full-length volumes of poetry and several books of nonfiction, and his work has appeared in many periodicals. His picture books include Bag in the Wind and The Bell in the Bridge, both illustrated by Barry Root, and House Held Up by Trees, a New York Times Book Review Best Illustrated Children's Book of the Year, illustrated by Jon Klassen. Ted Kooser lives in Garland, Nebraska.
Daniel Duncan is the author-illustrator of South. Mr. Posey's New Glasses is his first book with Candlewick Press. He lives outside London.
Praise for Mr. Posey's New Glasses
Routine and sameness are wearing on Mr. Posey, a bespectacled, balding older man. Mr. Posey longs to see the world as his young neighbor Andy sees it, with effervescence and possibility! ... a nice representation of intergenerational friendship. Surreal, wacky, and peppered with just a hint of danger.
—Kirkus Reviews