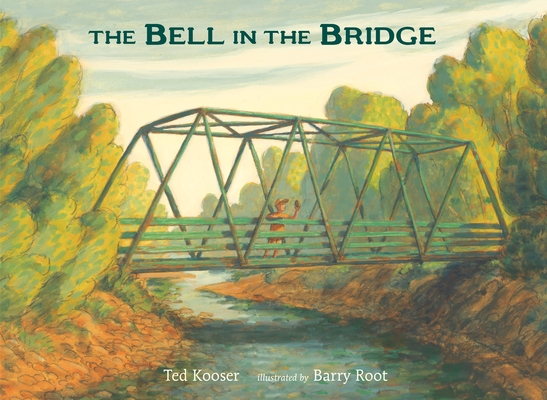 The Bell in the Bridge
Publication Date:
May 10th, 2016
Description
Is the sound Charlie hears from the bridge an echo, or is someone else out there? A lyrical, resonant story by poet Ted Kooser, splendidly illustrated by Barry Root.
When Charlie visits his hardworking grandparents in the summer, he often is left to himself, and he is lonely. So he goes out to play by the stream, with a tin can for tadpoles, a special weed-whacking stick, and stones to drop from the iron bridge. One day he notices that when he strikes the bridge with a big stone, it rings with a bong like a church bell and echoes into the valley. And sometimes a faint, very distant, different-sounding bong comes back. Is it an echo of an echo? Or could someone else, like him, be ringing another bridge altogether? The Bell in the Bridge reverberates with the mysteries and possibilities of childhood discovery, enhanced by illustrations that echo the warmth and magic of a solo summertime adventure.
Praise for The Bell in the Bridge
This warm, golden-tinged story from the duo behind Bag in the Wind (2010) moves slowly through a summer vacation as Charlie, staying with his grandparents for two weeks, passes the time by exploring outside...Kooser doesn't supply any miracles; instead, he holds out the possibility of a mysterious friendship in a place Charlie hadn't thought to find it. Root's watercolor and gouache landscapes reveal beauty in the woods and water that surround Charlie's grandparents' house, and he and Kooser succeed in making them grow as dear to readers as they do to Charlie.
—Publishers Weekly (starred review)
Root has created a rural landscape in watercolor-and-gouache paintings in a palette of avocado and ochre that captures a feeling of heat and stillness...A bucolic story with more adult than child appeal.
—Kirkus Reviews
Written with well-chosen words by America's thirteenth poet laureate, the narrative unfolds at a comfortably easygoing pace that lets listeners feel both Charlie's loneliness and his pleasure in discovering a mystery, if not its solution. Root's sunlit watercolor-and-gouache paintings capture the warmth of those summer days and the beauty of the setting. A quiet pleasure.
—Booklist
Barry Root's luminous paintings create the summertime setting for a boy's solitary rambles in "The Bell in the Bridge," a wistful picture book for 6- to 10-year-olds by former poet laureate Ted Kooser.
—The Wall Street Journal
The apt text and poignant illustrations fully capture the hope and mystery of a summer adventure.
—School Library Connection