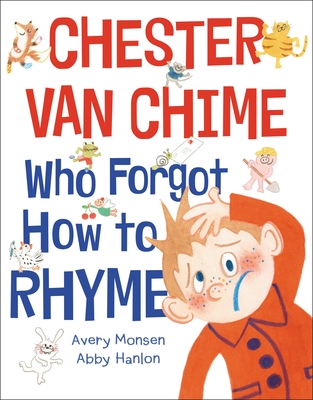 Chester van Chime Who Forgot How to Rhyme
Publication Date:
March 15th, 2022
Publisher:
Little, Brown Books for Young Readers
Usually Ships in 1 to 5 Days
Description
From the coauthor of the smash hit All My Friends Are Dead and the creator of the beloved Dory Fantasmagory chapter book series comes a hilarious read aloud about a boy who loses his gift for rhyme.
There once was a youngster named Chester van ChimeWho woke up one day and forgot how to rhyme.Chester loved rhyming, in poem or song.It always felt right, but today it felt...not right. VERY not right.
Chester van Chime is usually the BEST at rhyming. He can normally tell you all about cats wearing hats and snails delivering mail, but today, something has changed. Today there's no dog on a log. No duck in a truck. Just a Pomeranian on a sideways tree and a waterfowl in a full-size pickup. What's a kid to do?!
Filled with irresistible wordplay and whimsically silly illustrations, bestselling creators Avery Monsen and Abby Hanlon's read aloud tells the story of a boy who learns not to be stressed if he's not at his...tippy-top peak performance.
Praise for Chester van Chime Who Forgot How to Rhyme:
 
*"Your next Best Storytime Book…It's a must-read, a hit, a guaranteed good time…Poor Chester van Chime may have lost the ability to rhyme, but young readers will lose themselves to giggles…"―Bookpage, starred review
*"His rhyming groove returns as aural fits and starts turn to fluid, welcome rhyme, and the whole town celebrates. What starts out as a book about wordplay turns into an inventive and giggly antidote for the bad-day blues."―Publisher's Weekly, starred review
"Monsen's clever text offers both lexical fun and an important lesson: "This too shall pass."…Hanlon's busy gouache and colored pencil illustrations are full of attention-grabbing slapstick humor…Well-timed page turns will have kids shouting out the missing, but easily guessable, end rhymes…Get ready for wordplay that's giggly and fun and lasts long after the story is [over]."―Kirkus
"Hilarity crescendos as wordplay plummets, until Chester realizes we all have bad days."―The New York Times
An Amazon Best Books of the Month for March 2022
A Florida Sunshine State Young Readers Award Recipient 2022-2023
An Amazon Best Books of the Year So Far for Ages 3-5 for 2022 
Praise for Chester van Chime Who Forgot How to Rhyme
Praise for Chester van Chime Who Forgot How to Rhyme:
 
*"Your next Best Storytime Book…It's a must-read, a hit, a guaranteed good time…Poor Chester van Chime may have lost the ability to rhyme, but young readers will lose themselves to giggles…"—Bookpage, starred review
*"His rhyming groove returns as aural fits and starts turn to fluid, welcome rhyme, and the whole town celebrates. What starts out as a book about wordplay turns into an inventive and giggly antidote for the bad-day blues."—Publisher's Weekly, starred review
"Monsen's clever text offers both lexical fun and an important lesson: "This too shall pass."…Hanlon's busy gouache and colored pencil illustrations are full of attention-grabbing slapstick humor…Well-timed page turns will have kids shouting out the missing, but easily guessable, end rhymes…Get ready for wordplay that's giggly and fun and lasts long after the story is [over]."
 —Kirkus
"This colorful picture book has many elements that primary school children will enjoy…This is an ideal interactive read-aloud in an elementary setting." —School Library Journal
"Hilarity crescendos as wordplay plummets, until Chester realizes we all have bad days."—The New York Times
An Amazon Best Books of the Month for March 2022
A Florida Sunshine State Young Readers Award recipient 2022-2023
An Amazon Best Books of the Year So Far for Ages 3-5 for 2022 
An Indiana Primary Read Aloud pick for 2023
A Smithsonian Magazine Ten Best Children's Books of 2022
A Redbud Read-Aloud Award winner
A Texas Library Association 2x2 Award winner
A Good Housekeeping Best Kids' Books of 2022 pick
A 2022 LAPL Best Book
A 2023 Bank St College Best Books pick
A 2023-2024 Utah Beehive Award nominee
A 2024 North Carolina Picture Book Award nominee