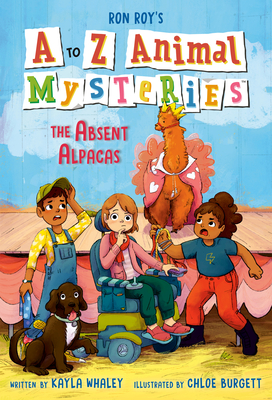 A to Z Animal Mysteries #1: The Absent Alpacas
Publication Date:
July 4th, 2023
Publisher:
Random House Books for Young Readers
Usually Ships in 1 to 5 Days
Description
Solve Animal Mysteries from A to Z! Young clue hunters Abbi, Daniel, and Lydia sniff out the mystery behind a group of missing alpacas. Inspired by Ron Roy's beloved A to Z Mysteries series, this spin-off is perfect for budding young chapter-book readers--and future detectives!
A is for ALPACAS . . .
It's time for the alpaca costume contest, and Abigail "Abbi" Wallace is excited to see it at the Maine State Fair. But there's only one alpaca left—the rest are missing! What sent the alpacas packing? Abbi; her dog, Barkley; and her friends Lydia and Daniel are ready to sniff out this mystery!
DON'T MISS the original A to Z Mysteries series by Ron Roy, starting with The Absent Author!
Praise for A to Z Animal Mysteries #1: The Absent Alpacas
"Good fun." —Kirkus Reviews