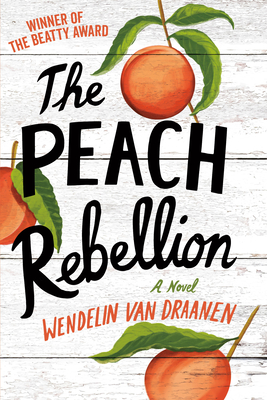 The Peach Rebellion
Publication Date:
August 1st, 2023
Usually Ships in 1 to 5 Days
Description
From the author of The Running Dream comes a heart-swelling historical tale of friendship, family, and the power of sisterhood to help heal the wounds of the past and step boldly into the future.
Ginny Rose and Peggy were best friends at seven, picking peaches on hot summer days. Peggy's family owned the farm, and Ginny Rose's were pickers, escaping the Oklahoma dust storms. That didn't matter to them then, but now, ten years, hard miles, and a world war later, Ginny Rose's family is back in town and their differences feel somehow starker. Especially since Peggy's new best friend, Lisette, is a wealthy banker's daughter.
 
Still, there's no denying what all three girls have in common: Families with great fissures that are about to break wide open. And a determination to not just accept things as they are anymore.
 
This summer they will each make a stand. It's a season of secrets revealed. Of daring plans to heal old wounds. Of hearts won and hearts broken. A summer when everything changes because you're seventeen, and it's time to be bold. And because it's easier to be brave with a true friend by your side.
Praise for The Peach Rebellion
"Van Draanen continues to capture the souls of teenage girls, perfectly penning the hopes and fears of her protagonists. A compelling story of friendship and learning from tragedy." —SLJ
"Van Draanen's heartfelt telling captures the close bond of two lovable heroines." --Publishers Weekly
"Readers will cheer, then weep, as the unlikely trio of Ginny Rose, Peggy, and Lisette sets out to heal a broken family. The time and place are beautifully evoked, but it's the characters who power this story."
—Kimberly Brubaker Bradley, Newbery Honor Winner for The War that Saved My Life and Fighting Words
 
"In this story, grit creates not a pearl but the indomitable Ginny Rose, a Dust Bowl Anne of Green Gables. I couldn't pull myself away."
—Kirby Larson, author of Code Word Courage and Newbery Honor Winner for Hattie Big Sky
 
"A beautifully written historical novel about compassion, marginalization and inclusion and, above all, empathy and friendship. Sure to delight and inspire."
—Francisco Jiménez, award winning author of The Circuit, Breaking Through, Reaching Out and Taking Hold
 
"The Peach Rebellion gets everything right. A compelling story of three fully realized girls who navigate friendships across boundaries and find common ground together. Not to be missed!"
—Deborah Hopkinson, author of How I Became a Spy, We Had to be Brave, and Sibert Honor winner for Titanic: Voices from the Disaster
 
"The Peach Rebellion is a warm, heart-felt hug of a story. Ginny Rose and Peggy captured my heart from the first pages as they wrestled with friendship, family, fixing old wrongs, and finding their place in 1940s California."
—Rosalyn Eves, author of Beyond the Mapped Stars and the Blood Rose Rebellion trilogy
"Highlights bonds between unforgettable female characters." —Kirkus Reviews