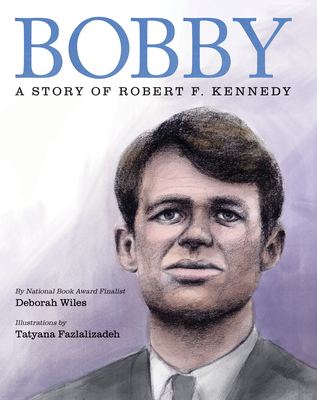 Bobby: A Story of Robert F. Kennedy
Publication Date:
September 6th, 2022
Publisher:
Scholastic Press
Usually Ships in 1 to 5 Days
Description
From two-time National Book Award finalist Deborah Wiles comes a compelling biography of Robert Kennedy.
Americans claimed Robert Kennedy as one of their own. They called him Bobby.
Lyrical and evocative text by Deborah Wiles (Countdown, Revolution, Anthem, and Kent State) brings the story of Robert F. Kennedy to life, with breathtaking illustrations by Tatyana Fazlalizadeh.
Bobby is set in 1968, with a grandfather telling his grandchild about Kennedy's life. Bobby was the younger brother of President John F. Kennedy. He became an accomplished public servant and activist in his own right. Though his run for presidency was tragically cut short on June 5, 1968, Bobby proved the value of empathy and grit. The story concludes as his funeral train makes its solemn journey from New York to Washington, DC.
Kennedy was perceived by many to be a rare unifying force in American politics. He was beloved by Americans of all races for his integrity and devotion to the civil rights cause. His life continues to inspire efforts for social change.
Deborah Wiles's Bobby will illuminate the importance of Robert Kennedy's life for children, parents, teachers, and librarians. Informative back matter is included.
Praise for Bobby: A Story of Robert F. Kennedy
★ "Wiles (the Sixties Trilogy) manages to cover all the outward milestones while making the heart of the book Kennedy's growth as a human being; her account, suffused with compassion, respect, and melancholy, communicates all that was lost with RFK's assassination. Fazlalizadeh's soft, textured illustrations, in graphite and colored digitally, variously convey time, place, and zeitgeist; evoke emotion; and capture personality... Superb." -- The Horn Book, starred review
"Effective use of lengthy quotes throughout the text brings the immediacy of Kennedy's work and world view to the forefront… useful for students looking to learn more about great American leaders." -- School Library Journal
"Tenderness typifies this subdued biography of Robert F. Kennedy... graphite sketches by Fazlalizadeh start out minimalist, building depth as darker events transpire." -- Publishers Weekly
Praise for The Sixties Trilogy:
★ "Wiles palpably recreates the fear kids felt when air-raid sirens and duck-and-cover drills were routine... this story is sure to strike a chord with those living through tough times today." -- Publishers Weekly, starred review
★ "References to duct tape (then newly invented), McDonald's and other pop culture lend authenticity to this phenomenal story of the beginnings of radical change in America." -- Kirkus Reviews, starred review
★ "An ambitious, heady endeavor that succeeds wonderfully in capturing the atmosphere of that pivotal and eventful summer." -- The Horn Book, starred review
★ "Accessible and moving... will open many eyes to the brutal, not-so-distant past out of which a new standard of fairness and equality arose." -- Publishers Weekly, starred review
Praise for Kent State:
★ "An important book not to be missed." -- Booklist, starred review
★ "Both timely and timeless." -- Publishers Weekly, starred review
★ "Well-researched and deeply moving." -- Kirkus Reviews, starred review
★ "Should not be skipped." -- The Horn Book, starred review
★ "Stunningly realized." -- Bulletin of the Center for Children's Books, starred review