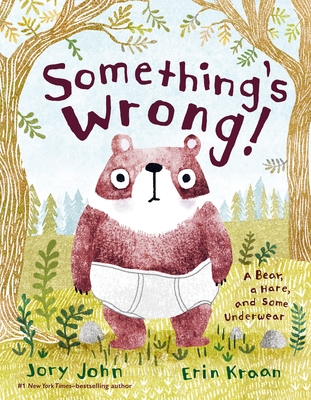 Something's Wrong!: A Bear, a Hare, and Some Underwear
Publication Date:
March 23rd, 2021
Publisher:
Farrar, Straus and Giroux (BYR)
Usually Ships in 1 to 5 Days
Haven't we all had days where something feels not quite right? Well, Jeff the bear is having one of those days! Unable to identify the problem, he turns to his pal Anders the hare, who quickly figures it out and saves Jeff from feeling embarrassed in front of all the other woodland critters. Hilarious and heartwarming, this is a tale that begs to be read aloud again and again.
Spring 2021 Kids Indie Next List
Description
A hilarious picture book from #1 New York Times–bestselling author of The Bad Seed, Jory John, paired with new illustrator Erin Kraan, about a bear whose friends help him make it through a bad day!
Oh-no. Jeff the bear has definitely forgotten something.
He ate his breakfast, he watered his plant, he combed his fur…what could it be? Why does he feel so oddly off?? He asks his friend Anders the rabbit what could possibly be wrong. It couldn't have anything to do with the fact that he's wearing underwear…over his fur...could it?
Something's Wrong! is another read-out-loud, laugh-out-loud picture book from bestselling and beloved author Jory John, about that horrible nagging feeling that it just might not be your day—but you know you have a friend to support you no matter what.
Praise for Something's Wrong!: A Bear, a Hare, and Some Underwear
"John's text perfectly pitches the jokes to a strong conclusion at just the right pace while Kraan's energetic illustrations, with hardly a straight line in the entire book, add to the sense of ultimately harmless cringe. The book is also a clever primer on handling embarrassment and how it can sometimes be dealt with by simply changing the perspective of what's happening. . .This underwear affair is wise, witty, and just brief enough." —Kirkus Reviews, starred review

"This is a wonderful example of illustration adding further to a very funny text . . . Expect hilarity to ensue wherever underwear stories are a hit with the add-on bonus of this being a great title for discussions on the topic of ­allyship." —School Library Journal, starred review
"A tribute to friendship. . .Anders's confiding reassurances and quick thinking make all-dialogue text by John a gift for the readaloud set. He's capably abetted by debut illustrator Kraan, whose textural earth-toned vignettes are gems of comic panic, dismay, and redemption." —Publishers Weekly
"Terrifically amusing. . .Block-print illustrations offer intricate lines and textures, and the solid, grounded art offers an effective steadiness in the face of Jeff's increasing panic. This could be paired with any number of underwear books, or it could just serve as a reminder that the best kind of friend always has your back." —Bulletin of the Center for Children's Books
"Don't let the giddy goofiness of an underwear-driven plot fool you; this is as whip-smart and linguistically sophisticated as the rest of John's terrific body of work. The ongoing joke of breaking the fourth wall of the book is clever, interactive, and well executed, culminating in a wonderful two-page wordless spread that captures the mounting tension of the moment. The story is strongly supported by Balzer's richly textured and slightly off-kilter collection of creatures, featuring the most adorably rounded tighty-whitey-clad bear buns you've ever seen." —Booklist