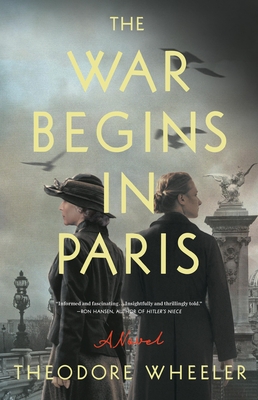 The War Begins in Paris: A Novel
Publication Date:
November 14th, 2023
Publisher:
Little, Brown and Company
Usually Ships in 1 to 5 Days
Description
From the author of Kings of Broken Things and In Our Other Lives comes a "powerful, immersive" literary noir about two female World War II correspondents whose fates intertwine in Europe (Caitlin Horrocks).
Paris, 1938. Two women meet: Mielle, a shy pacifist and shunned Mennonite who struggles to fit in with the elite cohort of foreign correspondents stationed around the city; the other, Jane, a brash, legendary American journalist, who is soon to become a fascist propagandist. When World War II makes landfall in the City of Lights, Mielle falls under Jane's spell, growing ever more intoxicated by her glamour, self-possession, and reckless confidence. But as this recklessness devolves into militarism and an utter lack of humanity, Mielle is seized by a series of visions that show her an inescapable truth: Jane Anderson must die, and Mielle must be the one to kill her.
Structured as a series of dispatches filed from around Europe and based on the misadventures of a real journalist-turned-Nazi mouthpiece, The War Begins in Paris is a cat-and-mouse suspense that examines the relentlessness of propaganda, the allure of power, and how far one woman will go for the sake of her morality.
Praise for The War Begins in Paris: A Novel
"The book is altogether a good read that gets more magnetic as the story unfolds. A very interesting, and different, view of life under WWII distress."—The Paris Insider
"This evocative and well-crafted story from Wheeler (In Our Other Lives) tracks two American journalists on a potentially fatal collision course in WWII Europe…The book's ornate prose captures the period's unsettling combination of horror and progress…This is one to savor."—Publishers Weekly
"Combines the smoky, morally complex, romantic atmosphere of WWII–era films with the sternly enthusiastic tone of their accompanying newsreels…This retro yet oddly fresh take on WWII captures the romance of wartime, but also the decadence and desperation."
—Kirkus Reviews
"Paris was home for the foreign correspondents who covered events in Europe for British and American media outlets during the interwar period. With the fall of France in 1940, a few of them such as the factual William Joyce, Robert Best, and Jane Anderson stayed behind and were recruited by Joseph Goebbels to broadcast treasonous Nazi propaganda from Germany. Theodore Wheeler's informed and fascinating novel uses the invented character of fashion reporter Marthe Hess to float us through this dark milieu and acquaint us with the financial, antisemitic, and often unthinking justifications for a journalist's alliance with evil. The War Begins in Paris is a great idea for a book and it's insightfully and thrillingly told."—Ron Hansen, author of Hitler's Niece
"This vivid novel takes on one of my favorite subjects: journalists in the war zone. Here we have 'radio traitors' among them, everybody wound tight, with questions of truth and trust all caught up in threat and propaganda. With fascinating parallels to our own cultural moment, The War Begins in Paris is a captivating and vibrant—and utterly present—portrait of chaos."—Timothy Schaffert, author of The Perfume Thief
"An exhilarating rush of a novel, The War Begins in Paris tells the story of a woman torn between what is right and what is easy. With sharp, propulsive prose, Theodore Wheeler's third novel is a tender search for courage and humanity in the face of the unthinkable."—Jenny Tinghui Zhang, author of Four Treasures of the Sky
"This powerful, immersive novel is simultaneously lush and chilling. Theodore Wheeler transports us to a place and time where friendships make it harder, not easier, to chart a moral path forward, and masterfully explores how love and loyalty can, for better and for worse, change what we're willing to do, and who we understand ourselves to be."—Caitlin Horrocks, author of The Vexations
"Propulsive, immersive, and beautifully rendered, Theodore Wheeler's The War Begins in Paris is that rare novel that's both contemplative and energetic, pulse-pounding and utterly devastating. Through Mielle and Jane, Wheeler deftly illuminates themes of friendship, love, sacrifice, and heroism, and shows us how loyalty and conviction can move in unpredictable patterns under wartime duress. This is a major gut-punch of a novel, and I, for one, am thankful it exists."—James Han Mattson, author of Reprieve
"A riveting novel with dynamic characters, The War Begins in Paris illuminates how intoxicating and destructive obsession can be. Wheeler ratchets up the drama with his nuanced, glowing prose, and portrays two complex women who believe in their ideals, no matter the peril. I couldn't put it down."—Kassandra Montag, author of After the Flood
"The War Begins in Paris tracks, in scrupulous and forensic detail, a relationship toxified by the lies of Nazism."—Luke Jennings, author of Codename Villanelle