Discounted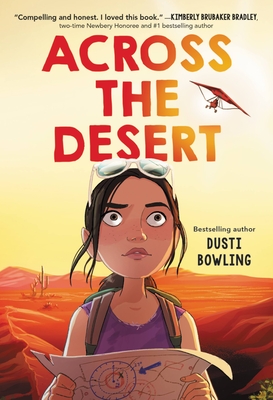 Across the Desert
Previous price:

$17.99
Current price:

$16.99
Publication Date:
October 12th, 2021
Publisher:
Little, Brown Books for Young Readers
Usually Ships in 1 to 5 Days
Description
One girl sets out on a journey across the treacherous Arizona desert to rescue a young pilot stranded after a plane crash in this gripping story of survival, friendship, and rescue from a bestselling and award-winning author.
​
Twelve-year-old Jolene spends every day she can at the library watching her favorite livestream: The Desert Aviator, where twelve-year-old "Addie Earhart" shares her adventures flying an ultralight plane over the desert. While watching this daring girl fly through the sky, Jolene can dream of what it would be like to fly with her, far away from her own troubled home life where her mother struggles with a narcotic addiction. And Addie, who is grieving the loss of her father, finds solace in her online conversations with Jolene, her biggest—and only—fan.
Then, one day, it all goes wrong: Addie's engine abruptly stops, and Jolene watches in helpless horror as the ultralight plummets to the ground and the video goes dark. Jolene knows that Addie won't survive long in the extreme summer desert heat. With no one to turn to for help and armed with only a hand-drawn map and a stolen cell phone, it's up to Jolene to find a way to save the Desert Aviator. Packed with adventure and heart, Across the Desert speaks to the resilience, hope, and strength within each of us.
Don't miss Dusti Bowling's new novel, Dust, available for preorder now. 
Praise for Across the Desert
* "Readers will soar along with Jolene into the prospect of better days."—Booklist, starred review
* "Instantly compelling."—School Library Journal, starred review
* "[A] tense, poignant story about the essential nature of friendship and life's unexpected possibilities." —Publishers Weekly, starred review
"Experience has taught Jolene she can only count on herself, and she doesn't think she counts for much. But when she witnesses her friend's accident in the desert via live stream, she finds the strength to rescue them both. Across The Desert combines compelling adventure, honesty, danger, and love."—Kimberly Brubaker Bradley, two-time Newbery Honoree and #1 New York Times bestselling author of The War That Saved My Life and Fighting Words.
Praise for The Canyon's Edge: * "Stunning.... an edge-of-your-seat read."—Kirkus Reviews, starred review
* "This emotionally resonant survival tale is a must-have."—School Library Journal, starred review
* "Powerful...a triumphant story of healing and bravery."—Booklist, starred review
"Beautifully written. [Dusti] Bowling is a master storyteller."—Midwest Book Review
"A powerful, heart-thumping story about survival and the inner strength it takes to reclaim life after trauma. Nora shows us that it's possible to emerge stronger than we've ever been before."—Ann Braden, award-winning author of The Benefits of Being an Octopus
"You won't be able to stop turning pages of this gripping, unforgettable novel with emotional depth and resonance as you cheer for Nora to conquer her inner and outer beasts."—Donna Gephart, award-winning author of Lily and Dunkin, The Paris Project, and Abby, Tried and True
"A haunting, heart-pounding story of survival, brilliantly told in verse. The Canyon's Edge will inspire, uplift and resonate. I loved it!"—Barbara Dee, author of Maybe He Just Likes You and My Life in the Fish Tank
"A gutsy, page-turning tale of courage, survival, and healing, told in dynamic verse. The Canyon's Edge is powerful, unflinching, and full of heart."—Chris Baron, author of All of Me
"Thrilling."—BookPage