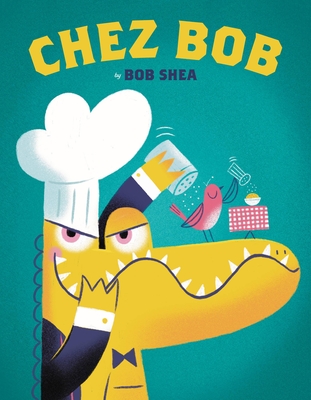 Chez Bob
Publication Date:
September 28th, 2021
Publisher:
Little, Brown Books for Young Readers
Usually Ships in 1 to 5 Days
Description
"A perfect book." –Sandra Boynton, bestselling author
From the hilarious author of Who Wet My Pants?, Unicorn Thinks He's Pretty Great, and the Dinosaur Vs. series comes a kid pleasing favorite about a devious alligator who learns to love!
Welcome to Chez Bob, which seems like a real restaurant...until you realize...it's on an alligator's NOSE! Bob's got a hidden plan for his customers: "Birds will come to eat, but I will eat the birds!" As they fly in from all over the world to dine on Bob's face, something starts to happen that takes the lazy, hungry reptile by surprise—the birds stay. "More yummy birds!" he rejoices—he'll want for nothing! But when the time is right, will Bob make the right choice?
Comic genius Bob Shea cooks up a tasty tale that proves anyone, even hungry alligators, can have a change of heart and learn to be a good friend.
Don't miss some of these favorite Bob Shea titles:
Unicorn Thinks He's Pretty Great
Dinosaur Vs. Bedtime
The Scariest Book Ever
Who Wet My Pants?
Praise for Chez Bob
A Publishers Weekly Best Book of 2021
A Children's Book Committee at Bank Street College of Education Best Book of 2021
An Amazon Best Book of 2021
A Boston Globe Best Children's Book of 2021
"Chez Bob is beyond glorious. Seriously: It's a perfect book. Which is actually pretty infuriating."—Sandra Boynton
* "Shea puts a fresh spin on the tale of a villain reformed by spoofing contemporary rhetoric around the communal good: as a "positive role model for the birds I'm going to eat," Bob even coaches a local bird basketball team. Shea's always-striking art has a marvelous lightness here, thanks to the bevy of bird characters and a cheery tropical palette, making for a book that's funny and lovely to look at, too."—Publishers Weekly, starred review
* "Readers will laugh at this funny story... kids will cheer for the heartwarming ending. Appropriately droll illustrations perfectly match the lively shenanigans and depict Bob with a toothy, expressive mug. This is one to devour."—Kirkus Reviews, starred review
* "Delightfully mischievous…. Terrifically funny and surprisingly sweet. The splashy illustrations are distinctive and detailed, perfectly suiting the silly tone. Visit Chez Bob with no reservations."—Booklist, starred review
* "A fabulously fun read-aloud…Readers will come away giggling but will also retain a renewed sense of the importance of kindness and belonging. Laugh-out-loud funny, sweet, and a surefire hit for story time."
—School Library Journal, starred review
"Playful details in the art, varied perspectives, and effective page-turns enhance the story's humor…. From its punny, self-referential appetizer of a title (flip the author's name) to its sweet ending, Chez Bob offers a story-time feast." —Horn Book
"The deadpan humor will be appreciated even by older siblings who just might be glancing over younger shoulders."—Bulletin of the Center for Children's Books
"One of the funniest picture books of the year."—Parents Magazine
"Slyly funny in both story and illustration."—The Boston Globe