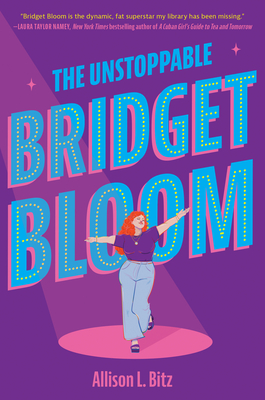 The Unstoppable Bridget Bloom
Publication Date:
May 2nd, 2023
Usually Ships in 1 to 5 Days
Description
A bright and fun fat-positive YA novel about learning how to express yourself when what has always defined you is no longer an option. Perfect for fans of Julie Murphy and Emma Lord.
Bridget Bloom's out-of-this-world voice is the perfect fit for center stage. When Bridget's admitted to Richard James Academy, a college prep boarding school with a prestigious music program—where heartthrob Duke Ericson attends—all her dreams are on track to come true: leave the hometown where she's never belonged, fall in love, and launch her Broadway career.
But upon arriving at the academy, she learns that due to her low music theory scores, she's not eligible to perform or earn the sponsorship she needs to afford the tuition. Worst of all, Dean of Students Octavia Lawless, the one person with the power to reverse the decision, challenges her to work on her humility . . . by not singing at all.
Without her voice, Bridget will have to get out of her comfort zone and find a new way to shine. Good thing she is unstoppable!
From debut author Allison L. Bitz comes a coming-of-age story of self-discovery, humility, friendship, and love. Includes sheet music for two original songs!
Praise for The Unstoppable Bridget Bloom
Recommended for fans of Becky Albertalli's Kate in Waiting and Robin ­Talley's The Love Curse of Melody McIntyre. — School Library Journal
Fat, dauntless Bridget has always known her worth—watching her find her place, even when she stumbles, is a joy. — Booklist Online
Bridget Bloom is the dynamic, fat superstar my library has been waiting for. — Laura Taylor Namey, New York Times Bestselling author of A Cuban Girl's Guide to Tea and Tomorrow
Bridget Venus Bloom is my new hero! Smart, funny, and absolutely charming, Bitz's debut novel is a grin-inducing delight. — Lynn Painter, NYT Bestselling Author of Better Than The Movies
A funny, bold, and heartwarming ode to the thrill of performing, the beauty of friendships, the joy of falling in love, and the satisfaction of self-discovery. THE UNSTOPPABLE BRIDGET BLOOM is a beautiful reminder to be bold, love big, and take up space. — Crystal Maldonado, award-winning author of Fat Chance, Charlie Vega and No Filter and Other Lies
Bold, bright, and with a dash of Midwest charm, The Unstoppable Bridget Bloom has a voice that sings. Bitz's joyful debut is one to cheer for—Bridget herself wouldn't have it any other way.   — Joan F. Smith, author of The Half-Orphan's Handbook and The Other Side of Infinity
Bridget Bloom is a fat positive heroine we've been waiting for! For everyone who has ever struggled to find their voice, every page of this story sings with a message about what it means to find love and learn to love yourself. — Kelly deVos, author of Eat Your Heart Out ?
A body-positive story of self-absorption, self-realization, and, ultimately, love.  — Kirkus Reviews