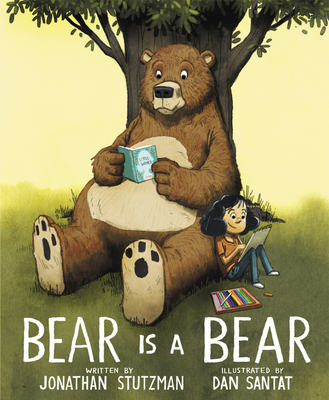 Bear Is a Bear
Publication Date:
September 14th, 2021
Usually Ships in 1 to 5 Days
Jonathan Stutzman spins a timeless story of a child and their beloved teddy. In the hands of illustrator Dan Santat, Bear is instantly lovable. Be warned: Parents may tear up reading this one at bedtime.
September/October 2021 Kids Indie Next List
Description
A gorgeous, classic gift book about the enduring love between a little girl and her childhood friend, Bear, from popular author Jonathan Stutzman and Caldecott Medal–winning and #1 New York Times bestselling illustrator Dan Santat.
Bear is . . . a new friend, a fellow mischief-maker, a protector, and a dreamer.
Through all the many ups and downs of a little girl's childhood, Bear is there to provide love and support. Until it is time to say goodbye . . . and hello again.
Bear Is a Bear is a tender and surprising tribute to the beloved companions of our childhoods.
This sumptuously illustrated, oversized picture book is the perfect gift for baby showers, birthdays, and the holidays. Parents who grew up on classic stories like The Velveteen Rabbit and Corduroy will love this new spin on a teddy bear seemingly come to life.
Snuggle up for story time with your new favorite read-aloud, Bear Is a Bear!
Praise for Bear Is a Bear
"A special story about a beautiful friendship between a girl and her teddy bear…. Caldecott winner Santat's digitally rendered illustrations in watercolor pencil explode with character and warmth.... Enthusiastic children will want to share stories about their own favorite cuddles with this sure winner." — ALA Booklist (starred review)
"This has the vintage sweetness of The Velveteen Rabbit and the contemporary heart of Toy Story, and it would make a gentle read in a teddy bear storytime or as a gift—accompanied, of course, by a stuffie for the recipient. " — Bulletin of the Center for Children's Books
"In this ode to the timelessness of cherished playthings, a toy bear accompanies a child through myriad experiences…. Will have adults and young readers alike reflecting on the indispensable natures of their own favorite stuffies." — Kirkus Reviews
"Stutzman's declarative sentences are packed with meaning, which Santat explores through the loving relationship between the characters in his expressive watercolor, pencil, and Photoshop illustrations. The spare text allows for visual creativity… [which] makes the impact of the final surprise reveal all the sweeter, and upon rereading reinforces an appreciation for the larger-than-life presence favorite toys can have in our lives." — Horn Book Magazine
"There's real poetry in the declamatory, rhythmic text and a lovely, everyday magic in Bear and the child's easygoing, unconditional connection." — Publishers Weekly
Praise for THE NIGHT IS FOR DARKNESS: "A beautiful bedtime story with a lilting text to lull little ones to sleep." — School Library Journal
"Lovely lilting language [and] soothing reassurances render the night magical and moving home an adventure in this sweetheart of a bedtime tale." — Kirkus Reviews
"Stutzman's rhyming tribute to the magic of nighttime… feel[s] like a lullaby, delivering a hypnotic effect that will engage young readers while lulling them to sleep." — ALA Booklist
"This offering is couched in reassurance and comfort." — Publishers Weekly